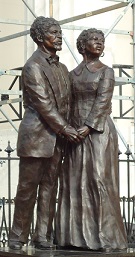 Dred and Harriet Scott Old Courthouse east facing Dred Scott Way 11 North 4th Street
Dred Scott's owner had taken him to live in Illinois and Wisconsin for several years. That served as the basis for Dred's suit for freedom. Territories and many "free" states deemed all people coming into their boundaries to be forever free. In 1857, The Dred Scott case declared them wrong. The decision nullified the Missouri Compromise which disallowed slavery in northern territories. The Supreme Court believed they'd put an end to the slavery question once and for all by making slavery legal everywhere. They accomplished just the opposite result. Southerners found stronger cause to demand enforcement of the Fugitive Slave Act of 1850. Seeing slaves captured in northern streets inflamed abolitionists and brought Civil War much closer.


Carl Schurz quotation Market and 14th Streets Front (East end) of the Peabody Opera House
"Democratic government will be the more successful the more the public opinion ruling it is enlightened and inspired by full and thorough discussion...The greatest danger threatening democratic institutions comes from those influences which tend to stifle or demoralize discussion."-Carl Schurz
Statesman and 48er Carl Schurz brought Lincoln news that he'd been nominated for President by the Republican party in 1860. As Lincoln's envoy, he performed the essential service of persuading Spain to stay out of our war. In reward, Lincoln sent him to St. Louis as Brigadier General of Volunteers under John Charles Fremont. He served throughout the war and was at the battle of Chancellorsville and on Sherman's march to the sea. After the war, he adopted St. Louis as his home. As newspaper editor, he gave Joseph Pulitzer his start in the news business. In 1869 Missouri chose him to represent the state in the United States Senate, the first German-born American elected to that body. He served as Secretary of the Interior and held great influence in American politics for three decades. He uttered his most famous saying in the U.S. Senate on February 29, 1872
"My Country, right or wrong; if right, to be kept right; and if wrong, to be set right."